Key to the Iowa State Center's success in engaging the Ames community and Central Iowans has been our involvement with various community activities. Participants and attendees are able to experience the Center in very personal and memorable ways.
The Iowa State Center also donates tickets to several philanthropic causes, community events and school fundraisers.
Young Concert Artist Series
Each year for the past 20 years, Iowa State Center has presented a Young Concert Artist in residency. This year we were pleased to partner with Ames Town & Gown to bring the Telegraph Quartet to Central Iowa. The Telegraph Quartet performed and led masterclasses in several schools and community venues. Their concert at First United Methodist Church on Friday, Oct. 5 capped their residency. The Telegraph Quartet joins a long line of young artists to awe Central Iowans with their vast talents. Stay tuned to see what next year brings as we seek to bring rising stars to you as they launch their careers.
Now in its 19th year, On Stage! has given more than 350 high school juniors and seniors the opportunity to 'live' the arts! This exciting program continues to introduce students to the performing arts–from theater and opera to classical music and world culture–in the hope they gain a lifelong appreciation for the arts.
In 2016, OnStage! Expanded to include several Learning Communities from Iowa State University. Juniors and seniors from area high schools are invited to submit an essay detailing why they should be picked to participate for Iowa State Center's successful audience development program On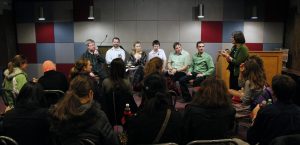 Stage! Those selected are given the opportunity to attend six Performing Arts Series performances and post-performance discussions with artists from the production or local arts experts to discuss and interpret each event. Also, prior to each performance, students are provided with background information to help them write a brief essay about their reactions.
The Martha-Ellen Tye Performing Arts Institute was established in 1999 to bring a unique blend of arts experiences to students of all ages. The Institute epitomizes Iowa State University's land-grant mission of education and outreach and honors the late Mrs. Tye's support of programs that develop the "whole person-body, mind and spirit."
As part of this wonderful program, we are able to bring in quality performances for school children.  Studies show a strong correlation between the arts and improved language skills, problem-solving and intelligence. Programs in the 2018-19 season range from Pete the Cat and Charlotte's Web for the youngest theater-goers to adaptations of  Arthur Miller's The Crucible and Jane Austen's Sense and Sensibility which align perfectly with the high school curriculum. Ticket prices are $4 in advance. Students enrolled in the federal lunch program are eligible for full scholarships and are admitted free of charge.
Find Tickets Download Series Brochure
Metropolitan Opera National Council Auditions
Each year Iowa State Center helps host the Upper Midwest Region's Metropolitan Opera National Council Auditions for the Iowa District. These auditions are specifically designed to discover promising young opera singers and to assist in developing their careers. The feedback they receive from nationally recognized judges is invaluable, ranging from career advice to recommendations for advanced study or apprenticeships.
Nearly 30 up-and-coming opera singers will pin their hopes and dreams on winning at the Metropolitan Opera National Council Auditions. Entrants come from as far away as San Francisco and Philadelphia but also as close as Iowa City and Marshalltown in a type of professional "sing-off." For more information click here.
Pre-performance previews
Join us in the Celebrity Cafe 30 minutes before each performance of the Performing Arts Series where touring company members and local experts offer backstage stories and background information to give you an inside look at each performance. For more information or a list of the speakers, contact Tammy Koolbeck at tkool@iastate.edu or 515-294-8809.