Created in 1999, this exciting program introduces students to the performing arts – from theater and opera to classical music and world culture.  In 2016, Iowa State University's Learning Communities joined the OnStage! program.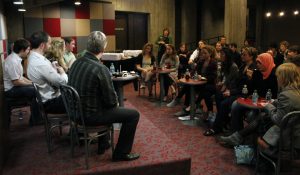 Students from select high schools in central Iowa submit essays detailing why they want to participate in OnStage! Those selected have an exciting opportunity to attend six varied performances during the season. Not only do they attend the shows, they meet with the performers after the show for a question and answer session and gain insight into what it means to be "on stage."
Iowa State University students from various Learning Communities across campus choose to become involved in OnStage!.  This program is supported by student government funding.
For many students, OnStage! is their first time experiencing live entertainment; for others, it is an opportunity to expand their arts knowledge.
The OnStage! program is designed to instill a love of, and an appreciation for, the performing arts and the artists. Former OnStage! participants have written about the performances they've seen:
I had never been to a symphony before … It let me imagine a story and the rise and fall of the story when the instruments changed tune and speed. All of the pieces seemed to be like this letting my imagination run free. The players had so much passion for what they were doing, you could see it in everyone's faces. The violinist that did the solo he was incredible and put so much movement and heart into his performance making it all the more interesting. I was very impressed and would definitely go to another symphony in the future! (National Symphony of Ukraine)
I think it was a really good reminder that even though there are tons of problems in the world, and tons of culture clashes, people are fundamentally similar, and music and dance are the two things that can transcend language barriers and bring people together. (Ladysmith Black Mambazo)
The program seeks to show the relevance of students' experiences during the performances to their daily lives. Here is more positive feedback:
All the way through, I had wished that I could have gotten up on stage and danced with them. I am so glad that I got the honor of attending this and I hope that I get the honor to see these wonderful singers sing again.

OnStage! Members at Cirk La Putyka: Slapstick Sonata in March 2017.
This performance reminded me to never give up on what you want to achieve. It also reminded me to keep trying your hardest and you will eventually get to where you want to be.
We are proud that OnStage! fulfills our mission to kick open the door for students to value the wonderful world of the performing arts. We look forward to sharing experiences with these youth and with you for many, many more years!
Please contact Tammy Koolbeck at tkool@iastate.edu or 515-294-8809 with questions or if you would like to support OnStage!