With the support of the Ames Community Arts Council, The Goldfinch Room hosts a series of Iowa Songwriters Showcases throughout the year. This listening room provides great acoustics in an intimate setting for approximately 100 people.
"There is unique magic in hearing music performed by the person who wrote it," said Iowa State Center Executive Director Tammy Koolbeck. "The audience will learn about the song as the artists share what they are feeling as they composed the score and the lyrics. It will be a fantastic evening as they share their passion for their music."
"I love listening rooms. I spend most of my time tending to lyrics and melodies and as a song unfolds from inspiration to completion, the final part of the process is performance," said Iowa singer-songwriter, artist and author Chad Elliott, who has performed in the Goldfinch Room twice. "There is nothing more fulfilling to me when an audience pays attention to that work."
This program is made possible with the support of the Ames Convention & Visitors Bureau Community Grant Program and the Ames Community Arts Council and Bonnie and David Orth.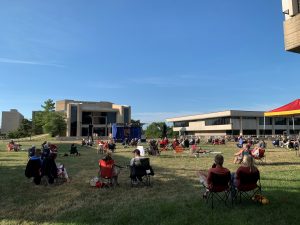 Ticket Information
Reserved tables with seating for four (4) are available for $40. Food options will include cheese platters, hummus tray, popcorn, cookies, and candy, along with a selection of wines, craft and domestic beers, and sodas.
Parking Information
Free parking is available in Lot F and Lot A1 next to the venue (Stephens Auditorium, 1900 Center Drive, Ames, IA). For patrons with mobility concerns, parking is available along the curb near the Southwest Tower Doors. Attendees will enter through the north doors near the ticket office and check in on the guest list with a valid ID.
Past Performances
Check out some photos below from opening night on January 26, 2019, featuring Chad Elliot, Tommy Lewis and Patresa Hartman!
Past performers also include J. Jeffrey Messerole, Aaron Earl Short, Kelli Rae Powell, Ben Schrag, Chris Myers, Fred Love, Society of Broken Souls, Mississippi Jake, Buz Owen, Melanie Devaney, Dan Tedesco, Ryne Doughty, Danika & The Jeb, Andrew Hoyt, David G. Smith, Matt Woods, Rob Lumbard, Marc Bailey, and Angela Meyer, and V Ellsbury.
Interested in performing at the Goldfinch Room? Contact us at thegoldfinchroom@gmail.com!