Iowa State Center and Ames Community Arts premiere new music venue
With the support of the Ames Community Arts Council, the Goldfinch Room, a new music venue located within Stephens Auditorium, will host a series of Iowa Songwriters Showcases over the next year. The first Songwriters Showcase is scheduled for Saturday, Jan. 26, from 7 – 9 p.m. and will feature two Iowa songwriters, Chad Elliott and Patresa Hartman, along with Texan Tommy Lewis….Read the rest of the article here.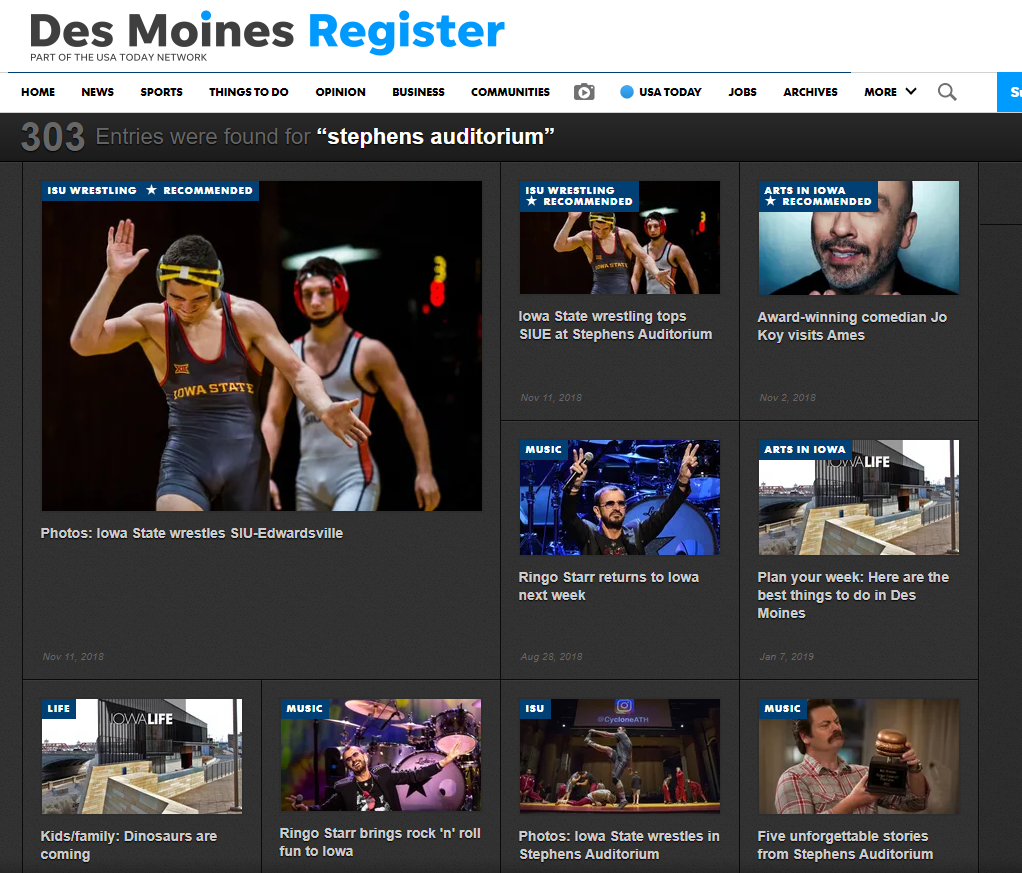 Check out what's happening at Stephens through the Des Moines Register!
Kinky Boots doles out lessons in heels
January 27, 2019 by Emily Urban
The touring Broadway musical "Kinky Boots" will strut its way into Stephens Auditorium on Thursday. The story is based on true events and, according to the Sydney Morning Herald, "struts its stuff with sparkles, stilettos and heart."
"Kinky Boots" is based on a film of the same name, inspired by true events of Charlie Price, a struggling business man, who partners with Lola, a drag queen entertainer. Their teamwork and eventual friendship produces a line of trusty stilettos taking them from Northampton, Massachusetts to Milan, Italy….Read the rest of the article here.
Stephens Auditorium to host a Circus of Marvels
January 29, 2019 by Meg Grice
A new circus inspired by American innovation will be rolling into Ames on Monday.
According to their website, Cirque Mechanics: "42ft" is "the American Circus, reinvented in timber, steel and ingenuity." Read the rest of the article here.
Dane Cook brings 'Tell it Like it Is' tour to Ames
December 22, 2019 by Tribune Staff
Stand-up comedian Dane Cook is performing his national tour, "Tell it Like it Is," at Stephens Auditorium at 7:30 p.m. on Thursday, Oct. 3.
It's Cook's first full-scale tour since 2013. The tour will visit several U.S. cities between the its kickoff Feb. 21 at the Paramount Theatre in Huntington, N.Y., and its wrapup Nov. 16 at the Dolby Theatre in Los Angeles. Read the rest of the article here.
'The Nutcracker' takes the stage at Stephens
November 24, 2018 by Tribune Staff
The annual holiday production of "The Nutcracker" is returning to Stephens Auditorium Saturday, Dec. 8, at 1:30 p.m. and 7:30 p.m., and Sunday, Dec. 9, at 1:30 p.m.
This perennial favorite is the longest-running Nutcracker in Iowa and showcases "sensational talent." Read the rest of the article here.
Kenny G performs holiday tour at Stephens Auditorium
November 17, 2018 by Tribune Staff
On Wednesday, Nov. 28, Kenny G's "The Miracles Holiday and Hits Tour" will be at Stephens Auditorium, where the musician will perform his "beautifully arranged world-renown holiday songs" as well as a set filled with hits from his recording career.
In a recording career that spans more than four decades and 24 albums, Grammy Award-winning saxophonist Kenny G has grafted elements of R&B, pop and Latin to a jazz foundation to become one of the premiere artists in contemporary jazz. Read the rest of the article here.