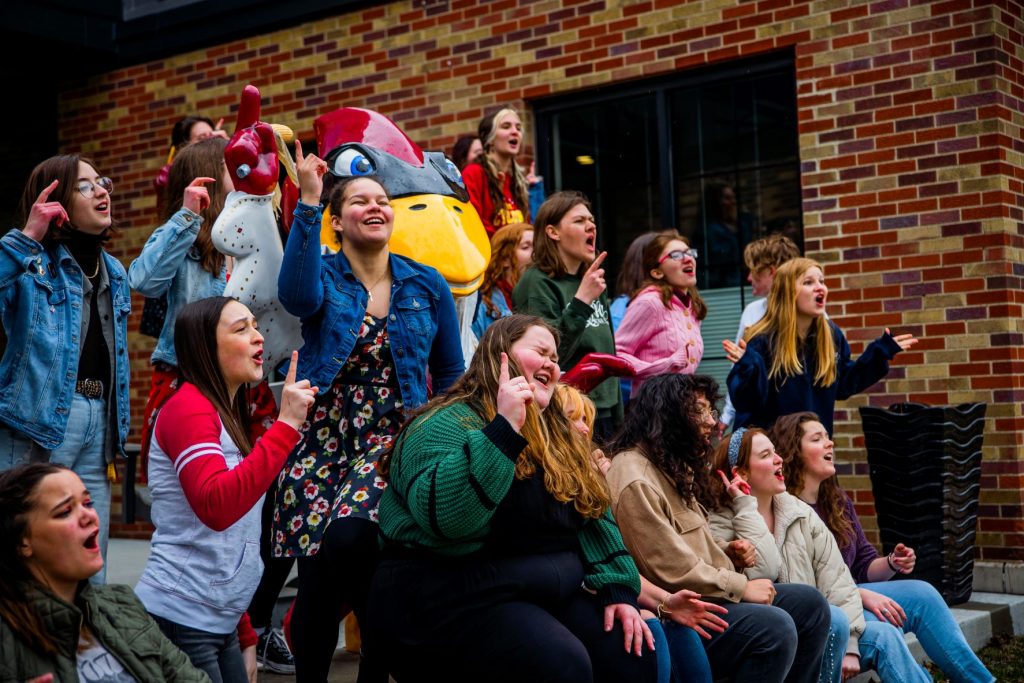 AMES, Iowa — Even while the pandemic shut down touring and live events, Stephens Auditorium never wavered in its commitment to creating exciting performing arts opportunities for central Iowa.
A partnership with Minneapolis-based nonprofit Arts Midwest allowed Stephens Auditorium to connect students at Iowa State University with an Israeli pop star for a music video collaboration even when COVID restrictions prevented them from meeting in person. The uplifting and unifying video that resulted from the collaboration showcases the power of music to cross borders and the innovative spirit of artists who rise above adversity to deliver their message.
Stephens Auditorium hosted several performances for the 2019-2022 cycle of World Fest, an Arts Midwest program that brings international musicians to communities across the Midwest. However, the coronavirus pandemic severely limited World Fest tours starting in February of 2020. Those disruptions lasted into this year, when Israeli pop singer Hadar Maoz's plans to perform at Stephens in March 2022 as part of World Fest fell through.
That's when Stephens Auditorium executive director Tammy Koolbeck introduced Maoz to Iowa State's Lyrica choir, a treble-voiced ensemble that explores a wide variety of musical traditions and whose repertoire draws on many cultures and genres. If Maoz couldn't visit the Midwest physically, a virtual collaboration could still work. The choir, directed by Dr. Jennifer Rodgers, rehearsed with Maoz four times via Zoom. The rehearsals helped the choir's members get a handle on pronunciation of the song's lyrics, which alternate between English and Hebrew, and the song's lively melody.
Koolbeck sat in on some of the Zoom rehearsals and was struck by the attention to detail from both Maoz and the Lyrica members.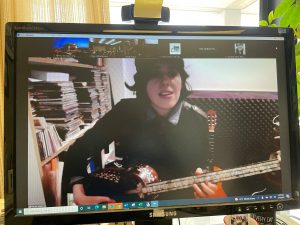 "The thing I found most interesting was how they would work on specific words that they would stop and devote attention to, making sure they got the pitch and feeling of the word exactly right," Koolbeck recalled. "I remember Hadar describing what she wanted them to feel when they said each word. Those were really cool moments."
The choir then recorded video footage that was edited into the video alongside footage of Maoz. The result is a seamless and infectious production that reinforces World Fest's goal to create cross-cultural experiences for both the artists and the communities that host them. It also fits with Stephens Auditorium's mandate to provide programming that entertains, educates and enriches.
Rodgers said the music video captures the spirit of camaraderie Lyrica developed.
"I think they built a really strong community over the course of the semester, a fun and joyful community amongst each other, and they gained a lot of confidence," Rodgers said.
World Fest
"It's really important to us that we have a local partner like Stephens Auditorium that can make the connections and do the work to reach different corners of the community," said Arts Midwest Program Manager Katie Ortman. "That's how we've been able to accomplish all this work."
World Fest operates in two-year cycles, partnering with small and midsized Midwestern communities to host international artists. Stephens Auditorium successfully hosted the Japanese folk ensemble Hikaru in October 2019 and Ghanaian musician Okaidja Afroso in February 2020 before pandemic restrictions upended touring and live events. After vaccines became widely available, Stephens also was able to host Brazilian artist Paulo Padilha e Bando in early May 2022.
Artists conduct educational and outreach efforts in each community they visit, and Ortman said Padilha's visit to a central Iowa elementary school proved especially memorable. During the program, at a moment when Padilha was encouraging the students to interact with members of his band, he heard one of the schoolchildren speaking in Portuguese. It just so happened that the little boy's family was Brazilian and the boy had made several trips to Brazil. That moment allowed Padilha to cement a deeper connection with the boy and his schoolmates, Ortman said.
"We don't know those moments are coming because they aren't planned," Ortman said. "We look for opportunities to engage with people in these communities who have ties with the culture of the artists so it really is an experience for the community, built by the community."
Arts Midwest will kick off a new cycle this fall with plans for tours and live events on a scale similar to how the program was conducted pre-pandemic. Although Stephens Auditorium isn't a partner venue for the new cycle, Oskaloosa is on the list of Midwestern communities set to participate.
World Fest sparks another Lyrica collaboration
Lyrica's involvement with World Fest set the tone for much of the ensemble's work throughout the semester. Rodgers said Lyrica's focus on exploring different sounds and musical approaches made it a great fit for the World Fest partnership. In addition to the collaboration with Maoz, Lyrica also capped off its semester by performing on the Stephens Auditorium stage with Paulo Padilha e Bando. Lyrica performed a brand-new arrangement for the song "Sabiá" with Padilha and his band on May 5, during the last week of class.
Lyrica members were able to practice with Padilha only once, right before the show. Despite the limited preparation time, Rodgers said the choir rocked the performance.
"By the time we got to the concert with Paulo, this small group of 24 mostly first-and-second-year students walked out there and was able to improvise and move," Rodgers said. "It was stunning. There was no clearer example of their transformation during the semester than that."
The video for "One Spirit" also appeared online in May. The finished product intersperses clips of Maoz singing and playing an array of instruments in a recording studio with clips of the Lyrica members singing in several locations in the Ames community such as Bandshell Park and Iowa State's Simon Estes Music Hall. For the four-minute-and-fifty-second running time of the video, the song bridges the distance between Israel and Iowa. The video, along with many other World Fest events, proves nothing brings people together like music, and it's another unforgettable moment made possible by Stephens Auditorium.
-30-