Back to Events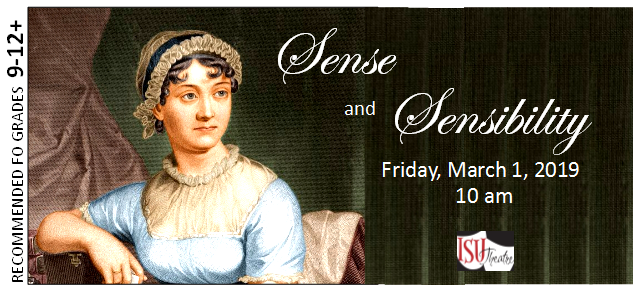 ​
in FISHER THEATER (2 hours 15 minutes – includes intermission)
Curriculum Connections:  Communication and Language Arts, Literature, History, Relationships and Family, Adaptation and Production Design
Adapted by Kerry Skram from the novel by Jane Austen
Suggested grade levels: 9-12+
In 18th-century England, the sudden death of Henry Dashwood leaves two of his daughters – sensible Elinor and hypersensitive Marianne – both financially destitute and socially vulnerable. The Dashwood sisters must learn how to weather the ridiculous societal pressures of the time in order to find love and their place in this new world. When reputation is everything, Elinor and Marianne must decide: is it better to use sense or sensibility to win the day? This charming, new adaptation – written by ISU alumnus Kerry Skram – imbues Jane Austen's beloved classic with a fresh female voice, emotional depth, lots of humor, and bold theatricality.
Visit theatre.iastate.edu for more performances and the full ISU Theatre calendar.
 click here for the "Sense and Sensibility" STUDY GUIDE 
---
MORE INFORMATION
SPECIAL INFO:Reserve your seats today! Please remember to include ALL teachers, chaperones, and parents in your group totals.

GROUP SALES:Students enrolled in the federal free lunch program are eligible to receive scholarship admission and are free of charge.
---
SEE TICKETS

DATE:

Friday, March 1, 2019

TIME:10:00 am

DOORS:North Doors on Ground Floor – Open at 9:15 a.m.

SE Doors & SW Doors – Open at 9:15 a.m.

*Times may vary depending on sound check for each performance.

PRICE:Tickets start at $4.00

ON SALE:on sale now