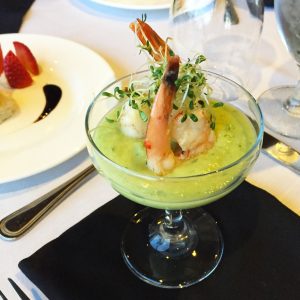 You have tickets – now let us make dinner! Grab your friends and enjoy pre-show dining at select performances at Stephens Auditorium.
What's Included
Make hassle-free reservations, nab a great parking spot, and enjoy our Performance Pre-Check Process when you add a pre-show dinner to your night out at Stephens Auditorium.
You can relax and know that you will have time to enjoy your meal and easily get to your seats before opening curtain. Each dining experience will begin two hours prior to show time starting with a 30-minute social. All dinners are held at the Scheman Building.
Making Reservations
Reservations are required and need to be placed at least five (5) business days prior to the show date. Requests for dinner reservations placed within five days may be filled based upon availability and will include an additional $10 fee per ticket. Seating is limited and reservations will be filled on a first come, first serve basis.
Pre-show dinner reservations can be placed online, in person at the Iowa State Center Ticket Office, or by phone at (515) 294-2479.
Dinner Menus
Guests enjoy a unique menu themed for the occasion. Each dining experience includes a salad, entrée, starch, vegetable, dessert and one drink ticket for wine, beer, or soda. Vegetarian, vegan, and gluten-free options may be available upon request. Contact us by phone at (515) 294-2479 or by email at ticketoffice@iastate.edu with special dietary requests.
Savor a pre-show dinner with us for each of the performances below!

Beautiful – The Carole King Musical
Saturday, October 19, 2019 at 6pm | $34
Caesar Salad with Garlic Toast Points, Italian Wedding Soup, Chicken Tikka Masala, Pasta Primavera, and German Chocolate Cake.

Jersey Boys
Sunday, November 3, 2019 at 5:30pm | $34
Apple Cheddar Soup ("Apple of My Eye"), Beet and Arugula Crostini ("Sherry"), Chilean Sea Bass with Peanuts and Herbs served with Root Vegetable Wild Rice Blend ("Peanuts"), and Chocolate Caramel Brownie Cups ("Candy Girl").

The Color Purple
Friday, January 17, 2020 at 5:30pm | $34
Peppery Purple Soup, "Purple Haze" Chocolate Crostini, Fig and Arugula Salad with Walnuts and Goat Cheese, Soy Ginger Flank Steak with Eggplant and Purple Potatoes, and Grape and Rosemary Sorbet.

Russian National Ballet: Swan Lake
Thursday, February 13, 2020 at 5pm | $42
Russian-inspired cuisine, served buffet style. Carrot and Apple Salad, Sorrel Soup with Dark Rye Bread, Veal Pojarski (Veal and Mushroom Meatballs), Roasted Potatoes with Ajvar Relish, Creamy Mushroom Julienne, and Chocolate Cream Puffs.
Finding Neverland
Friday, February 14, 2020 at 5:30pm | $42
Childhood favorites brought into adulthood, served buffet style. Honey Chipotle Bacon-Wrapped Chicken Tenders, "Pigs in a Blanket," Spaghetti "O's" with Meatballs, Fully Loaded Mashed Potatoes, Broccoli Au Gratin, Southern Style Creamed Corn, and Guinness Milk Shake.

Waitress
Thursday, March 12, 2020 at 5pm | $34
Cuisine inspired by the musical, served in courses. Strawberry Spinach Salad, Chicken Pot Pie Soup, Spaghetti Pie, Cheeseburger Wellington with Couch Potato Pie, and Dessert Pie.