Back to Events

​
The Goldfinch Room featuring internationally-acclaimed singer/songwriter David G. Smith will return for an outdoor performance on the Stephens Auditorium front lawn on Tuesday, August 11 at 6:30pm!
The lawn will open at 6pm with socially distanced seating areas and music will start at 6:30pm. Free parking is available in Lot F, just west of Stephens Auditorium. Entry is $5 per person at the door. The event will also be livestreamed for free on the Goldfinch Room Facebook page with a virtual tip jar that will give listeners an opportunity to support the artist and Stephens Auditorium.
COVID-19 Accommodations
To safely deliver events in the time of COVID-19, the following procedures will be followed:
No advance ticket sales – pay upon arrival ($5 per person)
Social distancing shapes will be marked on the lawn for up to 4 people. Parties will be asked to stay within these markings as we've allowed 6-8 feet between shapes. If you are part of a larger group, please email the Ticket Office at ticketoffice@iastate.edu by Monday at 2pm and we will adjust the size of the shape to accommodate your group.
Bring your own lawn chairs and/or blankets. Pop-up tents/umbrellas will be allowed in the outer social distancing shapes.
Face coverings will be required when entering and exiting the event as well as when moving around to restrooms or to purchase food and beverage. Face coverings will not be required once you are seated.
We will be offering beer, wine, soda and water at an outdoor bar area.
The Traveling Pig will be on site offering yummy menu items.
Outside food and non-alcoholic beverages may be brought into the event.
Restrooms will be open in Stephens and we will ask patrons to follow directional signage when entering and exiting the venue.
The event will be also livestreamed on the Goldfinch Room Facebook page with a virtual tip jar that will give listeners an opportunity to support the artist and Stephens Auditorium.
In case of inclement weather, a decision will be made by 3pm on day of show with an email going out to our Goldfinch Room mailing list and Facebook page if the live portion is cancelled and moving to livestreaming only with no audience.
The Traveling Pig Food Truck and Catering will be set up at 6pm. Link to menu: https://www.travelingpigfoodtruck.com/menus
For more information, contact the Stephens Auditorium ticket office at ticketoffice@iastate.edu.
About the Artist – David G. Smith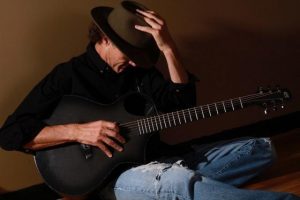 Internationally-acclaimed singer-songwriter David G. Smith is an acoustic solo performer with a lyric intensive style featuring music and a voice that range from dirt-funk to intimate. Think James Taylor meets Townes Van Zandt. His music is featured on TNT, Lifetime Network, Travel Channel and he is a regular performer at the Bluebird Café in Nashville. His last 3 (of 7) albums have been accepted for Grammy consideration. David, his voice and his songs are authentic.
GET TICKETS

DATE:

Tuesday, August 11, 2020

TIME:6:30 pm - 8:00 pm

TICKETS START AT:$5!

DOORS:Doors open approximately before show time.