Back to Events

​
The internationally recognized stand-up comedian and actor's trademark wit and sharp, irreverent social commentary explores race, popular culture, sex, drugs, politics, and fame. Arguably the most-touring comic on the circuit, Chappelle has performed more than 1,600 concerts worldwide in the past four years, selling out shows within minutes of their announcements.
The past few years have been banner for Chappelle. In 2017, he released four highly anticipated specials on Netflix: The Art of Spin, Deep in the Heart of Texas, Equanimity and The Bird Revelations. All four specials were delivered on vinyl as double-feature albums and received Grammy Awards®for Best Comedy Album in 2018 and 2019. Pollstar awarded Chappelle with Comedy Tour of The Year in 2014 and 2018 and he captured his second Emmy®for Outstanding Variety Special with Equanimity in 2018.
Chappelle was the mastermind behind the 2003 sketch comedy hit, The Chappelle Show—one of the highest rated programs on Comedy Central. The show earned three Emmy®nominations and went on to become the best-selling TV show in DVD history. Feature film credits include Bradley Cooper's award-winning remake of A Star is Born, Spike Lee's Chi-Raq, You've Got Mail, Half Baked, The Nutty Professor, and Robin Hood: Men in Tights.
Rolling Stone ranks Chappelle among the top 10 of the "50 Best Stand-Up Comics of All Time." Esquire Magazine has called him "the comic genius of America," and he was featured on the covers of GQ Magazine's Man of the Year issue in 2015 and The New York Times Magazine in 2017.
Cell Phone Policy
The Dave Chappelle performance at Stephens Auditorium will be a phone-free experience. Use of cellphones, smart watches, smart accessories, cameras or recording devices will not be permitted in the performance space.
Upon arrival at the venue, all phones and smart watches will be secured in Yondr cases that will be opened at the end of the event. Guests maintain possession of their phones at all times, and can access their phones throughout the show at designated Phone Use Areas in the venue. All phones will be re-secured in Yondr cases before returning to the performance space.
Anyone seen using a cellphone during the performance will be escorted out of the venue. We appreciate your cooperation in creating a phone-free viewing experience.
For more information, visit www.overyondr.com/faq.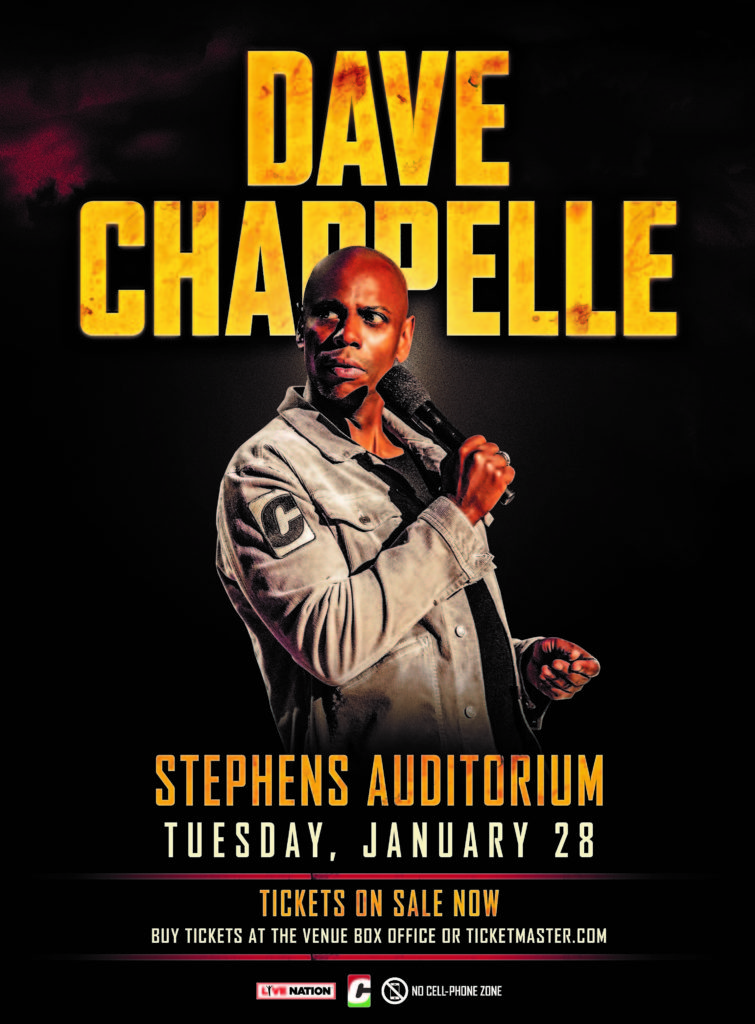 GET TICKETS

DATE:

Tuesday, January 28, 2020

TIME:8:00 pm

TICKET PRICES:$72.50

DOORS:Doors open approximately before show time.