Back to Events

​
Based on the
update
from Iowa State University, all events at Stephens Auditorium, Fisher Theater and the Scheman Building have been postponed or cancelled through April 4. We are working with the following shows to reschedule dates: Daniel Tiger's Neighborhood (March 18); Bravo Dance (March 20-22); The Diary of Anne Frank (March 27) and the Goldfinch Room (March 28). Ticket purchasers will be notified by email regarding new show dates and ticket refunds/exchanges.
We are pleased to announce our next Iowa Songwriters Showcase at The Goldfinch Room on Saturday, March 28 at 8pm featuring Central Standard Time!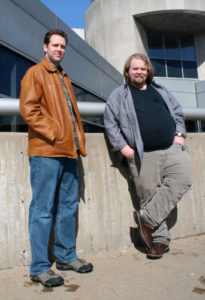 About the Artists
The warm resonance of an acoustic guitar folds perfectly into so many scenes. Maybe some of those scenes are from your own memory. Central Standard Time's music evokes those same memories. Though the songs are new, they are steeped in the American folk tradition. They are new songs woven from old threads.
Central Standard Time is an acoustic duo from Iowa City. Matt Hibbard and Charlie Rod met at camp, where their friendship grew strong. From that friendship sprouted a musical collaboration, born of many summer nights singing and playing around a campfire, winter days singing and playing by a fireplace, and countless days and nights in a college dorm room, making music with friends. That collaboration has continued for more than 15 years, spawning five albums of original music and performances throughout the Midwest.
About the Goldfinch Room
With the support of the Ames Community Arts Council, the Goldfinch Room hosts a series of Iowa Songwriters Showcases throughout the year. Nestled inside the Celebrity Café on the ground floor of Stephens Auditorium, this listening room provides great acoustics in an intimate setting for approximately 100 people.
Ticket Information
Reserved tables with seating for four (4) are available for $40 or for two (2) for $25. Food options will include cheese platters, hummus tray, popcorn, cookies, and candy, along with a selection of wines, craft and domestic beers, and sodas. Please bring your confirmation email with you to check in when you arrive for the performance.
GET TICKETS

DATE:

Saturday, March 28, 2020

TIME:8:00 pm

TICKETS START AT:$25!

DOORS:Doors open approximately before show time.