Back to Events

​
From small town Iowa, country music artist Angela Meyer will perform on the Stephens Auditorium stage in order to maintain a distance of 10 feet between groups on Tuesday, March 23 at 7pm. Masks will be required to attend the event except when eating or drinking.
Angela will perform at the Goldfinch Room on the Stephens Auditorium stage on Tuesday, March 23 at 7pm CST. Tables are available online and must be purchased in advance. Tables with seating for up to 4 people are available for $40 each. Tables are 8-10 feet apart. Livestream links are available for $10 for a single stream and $20 for a group stream.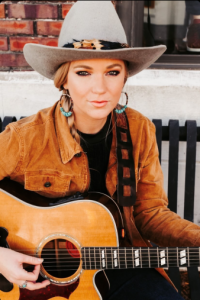 More About Angela
Angela Meyer is a country music artist based in Eastern Iowa in the tiny town of McCausland. She has played professionally around the QC area for over 10 years and has traveled far beyond to play shows anywhere from New Mexico to New York. Along the way she has graced stages of all sizes including the National Finals Rodeo events in Las Vegas.
You can hear her debut album "Consequence" everywhere music is streamed and sold. Next up: Angela Meyer's second album release will be happening mid-2021!
Check out Angela on Facebook, Instagram, YouTube, and her website.
GET TICKETS

DATE:

Tuesday, March 23, 2021

TIME:7:00 pm

TICKETS START AT:(see table price)

DOORS:Doors open approximately before show time.