Back to Events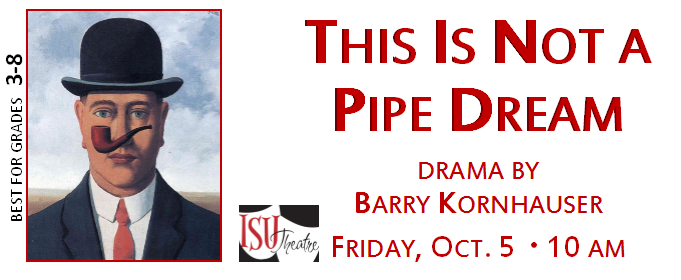 ​
in FISHER THEATER (60 minutes)
Curriculum Connections:  Art, History, Geography, Communication and Language Arts, Imagination
Suggested grade levels: 3-8
Inspired by the life and work of the surrealist painter Rene Magritte, the story follows a young boy who wants to be an artist. Though his desire is dismissed by his father as "a pipe dream", he is encouraged by his mother and begins a quest into the delightfully absurd magic-realism of Magritte's famous paintings. A celebration of art, the imagination, and the ways in which they help us confront life's traumas and mysteries.
Click here for Pipe Dream Study Guide
Visit theatre.iastate.edu for more performances and the full ISU Theatre calendar.
---
MORE INFORMATION
SPECIAL INFO:Reserve your seats today! Please remember to include ALL teachers, chaperones, and parents in your group totals.

GROUP SALES:Students enrolled in the federal free lunch program are eligible to receive scholarship admission and are free of charge.
---
SEE TICKETS

DATE:

Friday, October 5, 2018

TIME:10:00 am

DOORS:North Doors on Ground Floor – Open at 9:15 a.m.

SE Doors & SW Doors – Open at 9:15 a.m.

*Times may vary depending on sound check for each performance.

PRICE:Tickets start at $4.00

ON SALE:on sale now