Back to Events

​
Iowa singer/songwriter Matt Woods will perform at the Goldfinch Room on the Stephens Auditorium front lawn on Tuesday, September 15 at 5:30pm!
The lawn will open at 5pm with socially distanced seating areas and music will start at 5:30pm. Free parking is available in Lot F, just west of Stephens Auditorium. Entry is $5 per person at the door. The event will also be live streamed for free on the Goldfinch Room Facebook page with a virtual tip jar that will give listeners an opportunity to support the artist and Stephens Auditorium.
COVID-19 Accommodations
To safely deliver events in the time of COVID-19, the following procedures will be followed:
No advance ticket sales – pay upon arrival ($5 per person)
Social distancing shapes will be marked on the lawn for up to 4 people. Parties will be asked to stay within these markings as we've allowed 6-8 feet between shapes. If you are part of a larger group, please email the Ticket Office at ticketoffice@iastate.edu by Monday at 2pm and we will adjust the size of the shape to accommodate your group.
Bring your own lawn chairs and/or blankets. Pop-up tents/umbrellas will be allowed in the outer social distancing shapes.
Face coverings will be required when entering and exiting the event as well as when moving around to restrooms or to purchase food and beverage. Face coverings will not be required once you are seated.
We will be offering beer, wine, soda and water at an outdoor bar area. Outside food and non-alcoholic beverages may be brought into the event.
The Traveling Pig Food Truck and Catering will be on site offering yummy menu items beginning at 5pm.
Restrooms will be open inside Stephens Auditorium and we will ask patrons to follow directional signage when entering and exiting the venue.
In case of inclement weather, the outdoor portion will be cancelled and moved to a live stream only with no audience. A decision will be made by 3pm on the day of the performance and an announcement will be made via email and Facebook.
For more information, contact the Stephens Auditorium ticket office at ticketoffice@iastate.edu.
This program is made possible with the support of Bonnie and David Orth and the Ames Convention & Visitors Bureau Community Grant program.
About the Artist – Matt Woods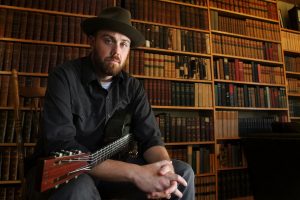 Matt Woods is both a native of Iowa and a longstanding purveyor of its diverse music scene. As a seasoned performer of many local, regional and national venues, Matt has developed a distinct style while staying true to his love of traditional American music. Woods is well-versed in the many shapes this music can take, from traditional delta, hill country and urban electric blues to gospel, country and folk music.
In addition to performing 100+ shows per year as a solo act, playing with several roots oriented bands and backing up some of the finest songwriters in the Midwest, Matt can often be found in the studio, adding guitar parts to a diverse array of recordings.
---
SPECIAL INFO:Tickets are only available in person at the ticket office.

GROUP SALES:There is no special group pricing available for this event.
---
GET TICKETS

DATE:

Tuesday, September 15, 2020

TIME:5:30 pm - 7:00 pm

TICKET PRICES:$5!

DOORS:Doors open approximately before show time.

Times may vary depending on sound check for each performance.