Back to Events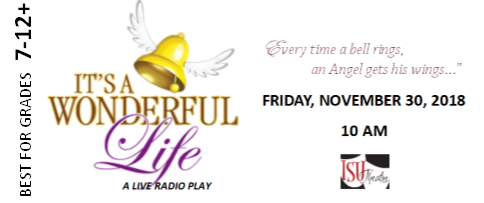 ​
Call for availability (515-294-7389) Limited Seats remain. 
in FISHER THEATER (90 minutes)
Curriculum Connections:  Communication and Language Arts, Broadcasting, Relationships and Family, Adaptation and Production Design
Adapted by Joe Landry
Suggested grade levels: 7-12+
This beloved American holiday classic comes to captivating life as a live 1940s radio broadcast. With the help of an ensemble that brings a few dozen characters to the stage, complete with a  live sound effects artist, the story of idealistic George Bailey unfolds as he contemplates his mortality one fateful Christmas Eve.
Click here for a study guide for It's a Wonderful Life
Visit theatre.iastate.edu for more performances and the full ISU Theatre calendar.
 click here for "It's a Wonderful Life: A Live Radio Play" STUDY GUIDE 
---
MORE INFORMATION
SPECIAL INFO:Reserve your seats today! Please remember to include ALL teachers, chaperones, and parents in your group totals.

GROUP SALES:Students enrolled in the federal free lunch program are eligible to receive scholarship admission and are free of charge.
---
SEE TICKETS

DATE:

Friday, November 30, 2018

TIME:10:00 am

DOORS:North Doors on Ground Floor – Open at 9:15 a.m.

SE Doors & SW Doors – Open at 9:15 a.m.

*Times may vary depending on sound check for each performance.

PRICE:Tickets start at $4.00

ON SALE:on sale now