The health, welfare and safety of our guests as well as our clients and employees are of the highest priority for the Iowa State Center.
All events have been cancelled or postponed at Stephens Auditorium, Fisher Theater and Scheman Building and the venues are closed to the general public until further notice.
During this same time frame, Iowa State Center management is working with each event individually to determine cancellation or postponement status.  The Iowa State Center website will have the most up-to-date information regarding all event-related updates and status changes.
Patrons holding tickets for Stephens and Fisher performances affected by this closure will be contacted by the Iowa State Center Box Office on the status of that performance and their options. We are working to reschedule as many of the affected performances and events as possible and ask for patrons' patience as this process may take some time.
In response to the emerging, global public health concern involving coronavirus (COVID-19), the Iowa State Center is closely monitoring the guidance of the World Health Organization (WHO), the Centers for Disease Control & Prevention (CDC), the Iowa Governor's Office and the Iowa Department of Health.
We encourage our guests, clients and employees monitor these resources for the most timely developments and accurate information.
Iowa State Center is taking every reasonable precaution to promote a safe and healthy environment. Our focus is to ensure we meet our guests, clients and employees' needs while doing our part to keep our guests, clients and employees as well as our communities safe and reduce the strain on our healthcare providers. We encourage everyone to take reasonable precautions.
---
Event Updates
Daniel Tiger's Neighborhood – March 18 (CANCELLED)
Bravo Dance – March 20-22 (CANCELLED)
The Diary of Anne Frank
March 27 – 10am performance (CANCELLED)
March 27 – 12:30pm performance (CANCELED)
The Goldfinch Room
March 28 – 5pm performance (CANCELLED)
March 28 – 8pm performance (CANCELLED)
9 to 5 – (POSTPONED TILL THE FALL)
Miss Nelson Has a Field Day
April 6 – 10am performance – (CANCELLED)
April 6 – 12:30pm performance – (CANCELLED)
Iowa Jazz Championships – April 7 – (CANCELLED)
The Fashion Show – April 18 – (POSTPONED)
Ron White – April 24 – (RESCHEDULED)
The Pout-Pout Fish
April 27 – 10am performance (CANCELLED)
April 27 – 12:30pm performance (CANCELED)
Russian String Orchestra
April 28 – (POSTPONED to September 29)
April 30 – (POSTPONED to September 29)
Alison Krauss – May 17 – (CANCELLED)
---
Preventing COVID-19 Spread in Communities
From the Centers of Disease Control and Prevents (CDC)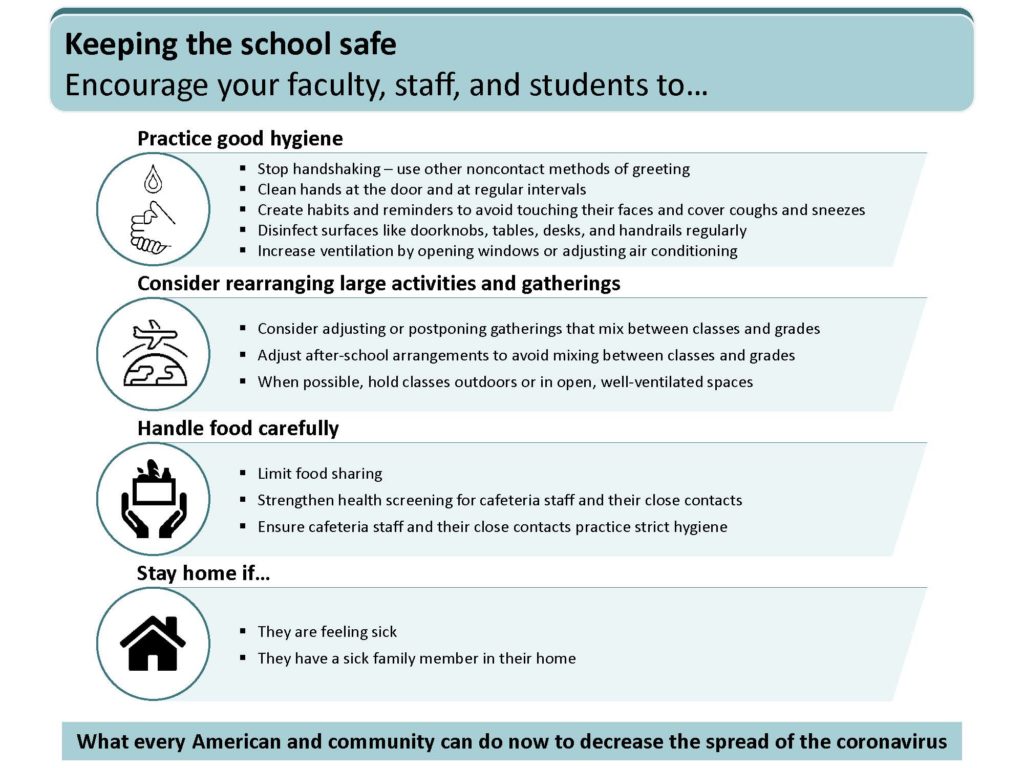 ---
Resources
Centers for Disease Control & Prevention (CDC) COVID-19
Iowa Department of Health Coronavirus Updates